Case
Clinical Presentation
Mrs. D, age 56 with a past medical history of seropositive rheumatoid arthritis (RA), hyperlipidemia, obesity, and tobacco use, was evaluated by her primary care provider for dizziness. Her relevant family history included Parkinson disease in her father and RA in her sister. Mrs. D was taking methotrexate for RA, atorvastatin for hyperlipidemia, and duloxetine for chronic pain. Her dizziness had evolved over the past 2 weeks, and she described it as an intermittent room spinning sensation with occasional accompanying left ear pain. She reported that she had no hearing loss, visual changes, headaches, numbness/tingling, aphasia, weakness, or confusion. Treatment with meclizine and prednisone was started.
Despite treatment, Mrs. D's dizziness continued and 1 week later, she presented to the emergency department with intensified dizziness. On examination she was oriented to person, place, and time with clear speech. Her pupils were equal, round, and reactive to light, and her extraocular movements were intact. Slight nystagmus was noted with lateral gaze to the right. No sensory, motor, or visual field deficits were noted.
Diagnostic Testing
Mrs. D's brain CT and CT angiography findings were unremarkable, but her brain MRI showed acute and subacute infarcts involving the central and left aspect of the splenium of the corpus callosum, left periatrial white matter/thalamus, left basal ganglia, and anterior right cingulate sulcus. She had an initial stroke workup including electrocardiogram, 24-hour cardiac monitoring, and echocardiography, which were negative.
Discharge
Embolic stroke was suspected, and Mrs. D was discharged on dual antiplatelet therapy after loop recorder placement.
Return Presentation
Mrs. D returned 3 days later after her family found her confused and incontinent in her home. She further complained of headaches, dizziness, and generalized weakness. Physical examination findings were the same as previously except for the absence of nystagmus and inability to recall her recent episode of confusion. Approximately 1 week later, she reported decreased hearing on the left and developed acute confusion and dysarthria. Mrs. D continued to be encephalopathic with increasing agitation and experienced new symptoms of diplopia and internuclear ophthalmoplegia as diagnostic testing continued.
Further Diagnostic Testing
At Mrs. D's first return, the previously placed loop had recorded no arrhythmia. Repeat MRI showed new infarcts in the left corona radiata and expansion of prior infarcts into the corpus callosum. After the new symptoms of hearing loss, dysarthria, and confusion developed, repeat MRI revealed additional multifocal acute infarcts involving both cerebral hemispheres and multiple areas of leptomeningeal enhancement (Figure).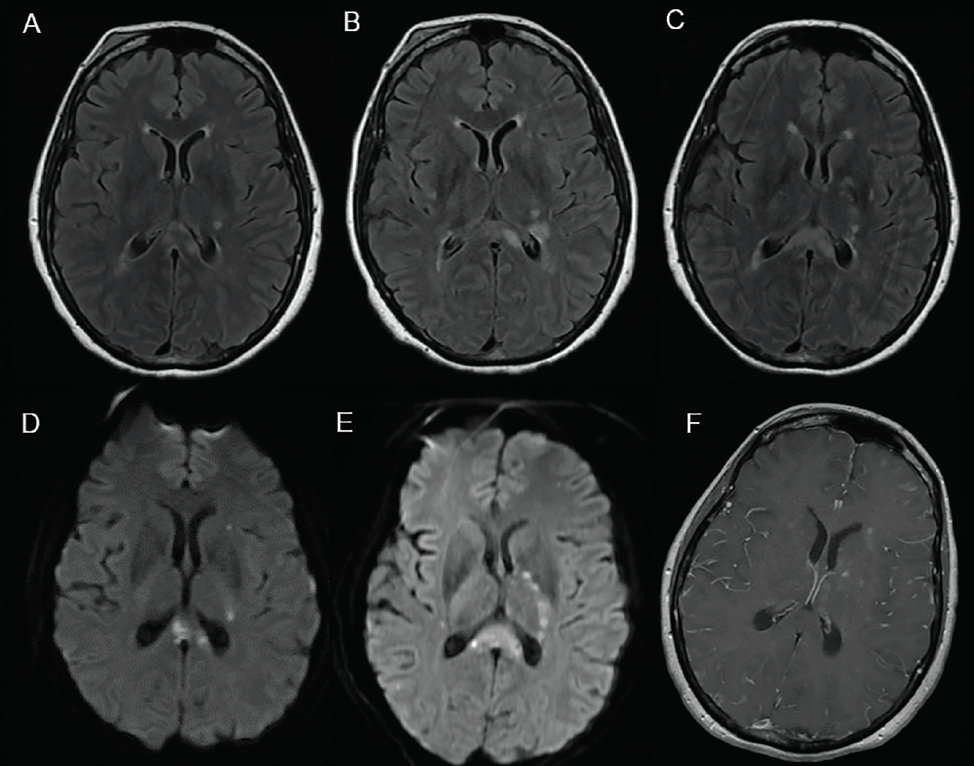 Axial T2 fluid-attenuated inversion recovery (FLAIR) images at initial presentation (A) and 5 (B) and 15 days later (C) show hyperintense lesions in the splenium of the corpus callosum, external capsule, and periventricular white matter/internal limb of the internal capsule. Axial diffusion-weighted (DW) image at initial presentation (D) demonstrates foci of restricted diffusion in the splenium of the corpus callosum, external capsule, periventricular white matter/posterior limb of the internal capsule, which were seen to progress on images taken 15 days later (E). Axial spin-echo T1 postcontrast shows leptomeningeal enhancement (F).
Differential Diagnosis and Testing
The differential diagnosis considered included embolic or ischemic stroke, multiple sclerosis (MS), acute disseminated encephalitis (ADEM), small-vessel vasculopathies (eg, sporadic small vessel disease, arteriolar sclerosis, primary or secondary vasculitis, cerebral autosomal dominant arteriopathy with subcortical infarcts and leukoencephalopathy [CADASIL], Susac syndrome, and Behcet disease), coagulopathies, neurosarcoidosis, and connective tissue disease.
Blood and CSF analyses findings are shown in Table 1 and 2 and testing for coagulopathy was negative. Mrs. D had no seizure activity on EEG and cerebral angiography findings were inconsistent with CNS vasculitis.
Serial MRI's continued to show new acute infarcts. Meningeal biopsy was unrevealing. Both audiometry and fundoscopic examination were limited by Mrs. D's altered mental status, but a limited fundoscopic exam did reveal 3 white patches on her nasal retina along blood vessels of the left eye. A fluorescein angiogram (FA) performed under sedation revealed multifocal arterial occlusions in the left eye and normal-appearing right eye.
Challenge Questions
1. Considering the differential diagnosis for multiple sclerosis (MS), what imaging finding of Mrs. D's would be atypical?
a. Lesions in the splenium of the corpus callosum
b. Bilateral hemispheric involvement
c. Basal ganglia involvement
d. Infarcts at acute and subacute stages
Click here for the answer
A. Lesions in the splenium of the corpus callosum, as seen on Mrs. D's MRI, are not typical of multiple sclerosis (MS). Although callosal lesions are typical in MS, they are more likely to be located at the undersurface and septal interface of the corpus callosum, rather than the splenium.1
2. Combined with previous clinical symptoms of encephalopathy and hearing loss, for which diagnosis might the additional visual symptoms raise suspicion?
a. Behcet syndrome
b. Susac syndrome
c. Cerebral autosomal dominant arteriopathy with subcortical infarcts and leukoencephalopathy (CADASIL)
d. Arteriolar sclerosis
Click here for the answer
B. The triad of encephalopathy, sensorineural hearing loss, and visual distortion should prompt consideration of Susac syndrome, in which autoimmunemediated occlusion of vessels in the brain, retina, and inner ear is thought to be responsible for this triad of symptoms. Very few people, however, present with all components of the triad initially.2,3 Characteristic neuroimaging findings are the triad of white matter lesions, (with preferential involvement of the central corpus callosum), deep gray matter lesions, and leptomeningeal enhancement, as seen on Mrs. D's MRI.1
SK, CH, and DS report no disclosures